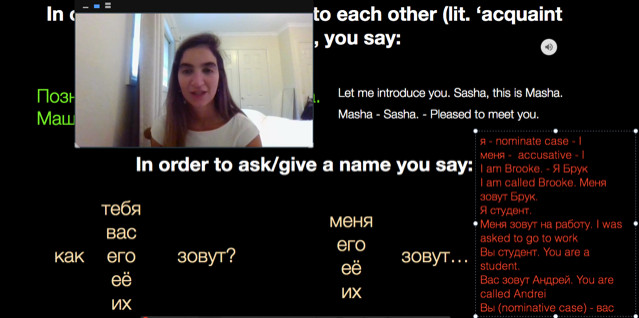 I have been learning Russian with Arina via a 1 hour Zoom lesson on a weekly basis since November 2020. Arina's warm and approachable manner and expertise in language teaching has seen my learning accelerate beyond my expectations. Our lessons are always engaging and Arina prepares fun homework that reinforces topics covered. Arina takes time to introduce new concepts and each lesson commences with a brief revision of the previous week ensuring my knowledge is consolidated. In addition to our weekly lessons, Arina also regularly shares information and highlights from Russian culture and life including Russian movies, photos of landmarks and landscapes and famous Russian cultural references. Arina has been very flexible on the occasions where I have needed to reschedule our lesson due to unforeseen circumstances (that even meant a tutorial on Christmas Eve!). Arina took time to consider my learning goals and we developed a pace and schedule that suits my needs. I highly recommend Arina if you are serious about learning the Russian language and are looking for an exemplary tutor that is friendly, dedicated and fun – Arina is a wonderful teacher!

Subject: Russian
Brooke 2021
This review can also be seen on TutorFinder.
---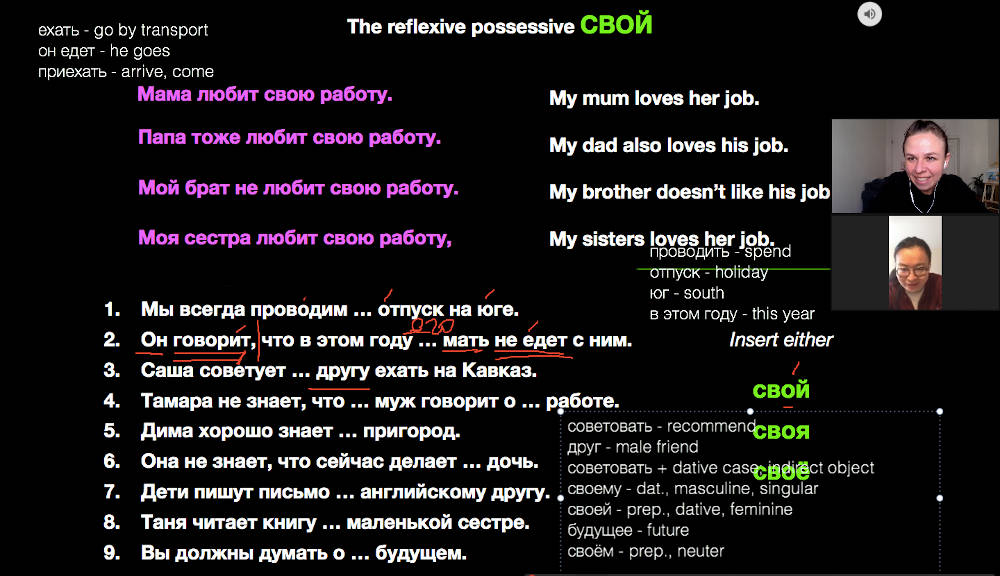 Arina is my enlightenment tutor on Russian language. She made beautiful slides and taught me the abcs of Russian alphabet, pronunciation and vocabulary. We had the class via Zoom video meeting. What's really impressive is that she observes my mouth shapes and uses very funny and creative ways to show me how to position the tongue to get the right sound. And she knows exactly why I cannot pronounce certain sounds, and gives practical methods and practices with me on stretching my tongue and my oral muscles for pronouncing the exciting new syllables 🙂 She is as patient and dedicated as a mama tutoring her murmuring child. Besides being a bilingual language teacher, Arina is also an artist and practices a creative and authentic lifestyle. She has unique and insightful expressions about life, and would put this creative and artistic part of her into teaching. This means she treats each and every one of her students as a unique individual, and tailors her teaching for the student's specialised needs. Arina is also a high level gymnast, she is strictly self-disciplined and resilient both physically and emotionally. She keeps wild curiosity for life and has insightful observations for the people around her, this gifted characteristic of her enables impressive and innovative interactions in her class.

Subject: Russian
Xueyang 2021
This review can also be seen on TutorFinder.
---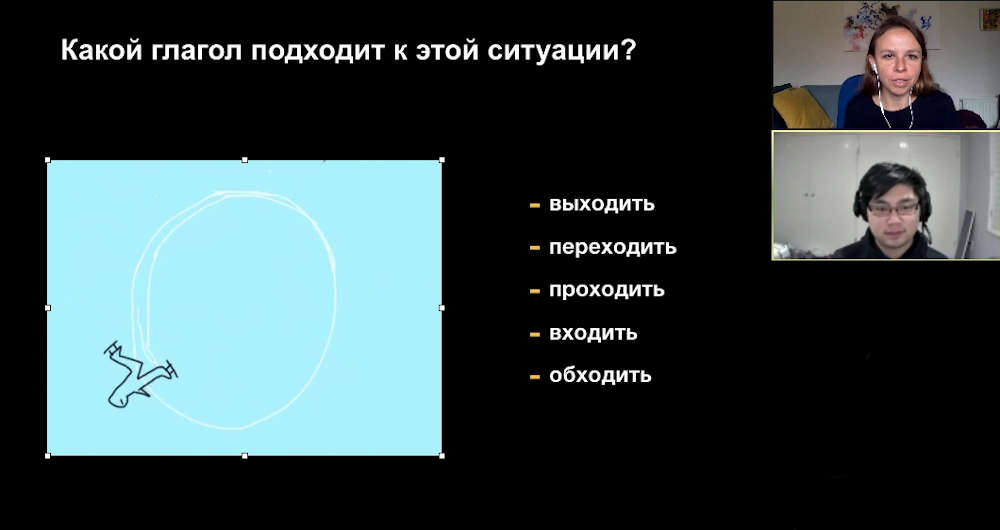 Arina was an excellent tutor in the Russian language. She provided quality resources and set challenging yet doable homework tasks that promoted critical thinking. She was very patient and knowledgeable when it came to difficult concepts. Arina was also very flexible when needing to cancel/reschedule, which allowed me to incorporate lessons within my schedule. Unfortunately all of my free time was eaten up with studies, which meant that I had to cancel lessons, but I will be picking them up again when I am free. 

Subject: Russian
Tony 2020
This review can also be seen on TutorFinder.
---
Arina is one of the best language tutor I had. She had a great background in teaching and knows how to relay her knowledge to her students. I have learned and practiced so much Russian in each session that we had.

She personally tailored each lesson that I had with her to suit my knowledge level. Every meetup, she is always on time and comes prepared with all the resources that we need in that particular lesson. Her resources come in different formats such as video, book, slides and even games. All of which are helpful to make you remember the lesson after.

There is also a sense of continuity in our lessons, where we had to review the previous lessons to make sure that I understand them by heart. If there's some difficulty, we focused on that particular topic instead.

The way Arina explain things and the way she handles my mistakes while learning Russian i s exceptional. Because of her attitude and approach, it makes learning a difficult language more approachable and understandable.

Subject: Russian
Rafael 2020
This review can also be seen on TutorFinder.
---
Wonderful, patient, and kind tutor. Recommend her highly!

Subject: academic writing
Tina 2019
---
Arina went beyond to help and support me through my essay writing. She always wanted to understand why and importantly helped me to see where I need to improve. I was highly recommend Arina and would definitely stay connected with her in the future

Subject: academic writing
Rene 2018
Arina was very good at:
Helping to plan an essay
Bringing information together
Giving advice/making suggestions on drafts

She is a very engaged smart person who puts in the extra effort.
I'm grateful for meeting her.

Subject: academic writing
Marlon 2018
Arina is a very helpful and patient tutor. Hope to have her in the next two years.

Subject: academic writing
Jie 2018
She is a very nice tutor with a lot of patience. She correct my English pronunciation , it is helpful me to improve my oral english

Subject: English
Lingfeng 2018
Arina was very professional, approachable, and understanding in our Russian lessons. She demonstrated great knowledge of the language and skills of how to teach it.

Subject: Russian as a foreign language
Bryce 27-02-2019
Arina really helped restart my learning and knowledge of Russian.

Subject: Russian as a foreign language
Alan 28-06-2018
I have always loved the Russian language and wanted to finally make time to learn and master it..I took classes at least once a week for 1hr.. As I run my own companies, I needed a tutor that was flexible to come direct to me with one on one lessons and who could pass on the language effectively (not like my previous experience in school..laborious and got nowhere) The lessons are fun with Arina, but also at the end of each lesson I felt I improved or gained a key understanding of the language and how to speak it properly eg..intonation (so I sound more Russian as opposed to slow and stilted) Our lessons are filled with fun and laughs from my bloopers to sharing a genuine interest in the culture and language structure. Arina has a very clear as well as creative hands on approach with teaching Russian..from showing me actual photos of signage taken on location in Russia as an exercise for me to practice reading Cyrillic… To spending time on my trouble areas like pronouncing the letter R…to name a few. With her genuine patience and repetition in focusing on the areas I was weak at, I felt that it made the learning for the subsequent weeks easier… She could sense my enthusiasm for the language and happily gave me exercises and homework to try out, and we would practice dialogues that I memorised at home the next time we saw each other. I love how tailored the lessons were to my needs. Arina is a great find!

Subject: Russian as a foreign language
Soozhee 07-03-2018
Arina is a great teacher and tailored our lessons to help us prepare for our holiday in Russia. The lessons helped us to read signs and order food and get around without getting lost….we enjoyed learning with Arina.

Subject: Russian as a foreign language
Christobel 05-03-2018
Had a weekly class with Arina and she always made great effort to push our Russian forward with both formal and informal learning activities.

Subject: Russian as a foreign language
Liko-Paul 05-03-2018
Arina is an excellent tutor. She was our Russian teacher in our company and she did a fantastic job teaching us in a fun way. We were never bored thanks to her never ending energy and enthusiasm. She made us play very fun Russian games, learn from colorful cards, which was awesome. She is an expert at utilizing different materials to teach, which makes her lessons special. In short, i do think Arina is a very passionate, friendly and disciplined instructor. I felt privileged joining her lessons. I strongly recommend her.

Subject: Russian as a foreign language
Deniz 05-03-2018
Мне очень нравится изучать русский язык! I really enjoyed Arina's lessons and style of teaching. Arina is well prepared and very engaged during the lesson. She is patient and makes sure my comprehension is correct. When I am free from my post grad uni work, I will want to learn more from Arina!

Subject: Russian as a foreign language
Rebecca 05-03-2018
Arina tutored us with weekly lessons in our home to prepare for vacation in Russia. We were absolute beginners: as we only had a little time to get ready, Arina designed each lesson to build us a small vocabulary useful for day-to-day social graces and getting around. She also provided cultural hints, and constant support outside the lessons – such as fun revision exercises, often web-based, and also the opportunity to meet and practise with other students, although we didn't take advantage of this due to our working hours. It was a thoroughly enjoyable experience! Спасибо! We are staying in friendly contact and would like to keep improving our language with Arina.

Subject: Russian as a foreign language
Peter 04-03-2018
Arina was well-prepared for the session. She went through model answers with me and she was highlighted key points clearly. She was very patient and focused. Well done!

Subject: PTE
Kaitlyn 04-07-2017
I had tried teaching myself Russian without great success. Once starting lessons with Arina I was extremely please to see how far I was progressing on a weekly basis. I required quite a specific travel vocabulary for my upcoming trip and Arina went to great lengths to tailor each session to my needs and even prepared relevant materials such as flash cards and quizzes for me to practice with. I would highly recommend Arina to others.

Subject: Russian as a foreign language
Ashim 26-05-2017
I was attending Russian lessons in a small group with Arina at my company until recently taking some leave. I highly recommend Arina, she is one of the best teachers I've ever had. She's actually passionate about teaching! In our group, everyone has different abilities, she pays attention to each student and customises the lessons. Most importantly, I think I might not have persisted so long trying to learn Russian, which is a difficult language, if it wasn't for the weekly lessons with Arina. Our group is a lot of fun. I look forward to going back to lessons when I finish my leave!

Subject: Russian as a foreign language
Jacqueline G 24-01-2017
The top three reasons I recommend Ariana is that she's hugely personable, passionate and knowledgeable about her subject and extremely flexible. Being a native speaker, she'll give you any insider knowledge you're after, and pron you can trust. She's always well prepared, but if you're not in the mood for grammar intricacies and just up for conversation practice, she's willing to go with the flow. She's also just a lovely person. I can't recommend her more highly!

Subject: Russian as a foreign language
Katie 04-09-2016
Arina has been a wonderful, helpful tutor to me for almost a year. She is extremely punctual and well-prepared for classes with an array of interesting and useful materials, and always tries to find new ways to explain complex Russian grammar to us English-speakers. Although she is fairly strict and likes to keep to the schedule, I have also found her to be approachable, flexible and understanding to my often unpredictable and changeable work timetable, which I very much appreciate. Even though I was barely finding the time to practice and do exercises at home in between lessons, which I'm sure must have been very frustrating for Arina, she has been nothing but patient and encouraging towards me. My only disappointment is that I personally didn't have the time to put more preparation into the lessons each week, however I'm hoping in the near future I might be able to start up lessons with Arina again with this goal for myself in mind.

Subject: Russian as a foreign language
Danica 28-08-2015
Arina has been nothing but a great tutor and has become like a friend to me. Although my progression has been slow paced due to my lack of preparation and study time, which I'm sure has been frustrating for Arina, she has only been encouraging and has never scolded me for it. She is often finding new and interesting ways for me to learn, whether it be with cartoons or poetry; even tailoring some lessons to one of our common interests, art, which has been very helpful and very exciting. I hope to continue to learn with Arina and gradually form the speaking skills I want to use! I highly recommend learning with her as she is a great tutor and a great person.

Subject: Russian as a foreign language
Clare 28-08-2015
I have been very happy with Arina. I am only doing one lesson a week for an hour so therefore my progression is a lot slower than others and might frustrate Arina, but i have found her to be very friendly, patient, helpful with me as a slower learner. I actually look forward to my lessons each week and thoroughly enjoy it. Highly Recommended!

Subject: Russian as a foreign language
Liam 27-08-2015
Arina is a very good tutor, very good knowledge of both the spoken and written Russian language. We only had a short amount of time before our visit to St Petersburg and wanted some basic language skills to be able to at least communicate with Russian people with no much or no English language at all. Arina provided entertaining and easy to follow lessons with lots of materials that gave us enough skills to be able to do that. Also we acquire fairly good reading skills so we were able to recognize words on menus, and signs. Her tutoring certainly made our trip a lot more fun and pleasant. We recommend her to anyone that is interested in the Russian language either for travel or just to learn the language, her classes were always well prepared and on time, and she was always courteous and polite, and very patient, as neither of us had any previous knowledge of the language.

Subject: Russian as a foreign language
Ana & Barry 27-08-2015